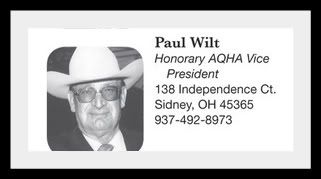 My grandpa Wilt passed away last night. I am super super sad, confused, troubled, mad and brokenhearted.
Thinking about all the fun we had together as a family. Thanksgiving and Christmas at your house, all us kids playing with our new toys in the basement with all your horse show trophies. I was so proud of you and still are. Playing BINGO and building puzzles during the holidays will be greatly missed.
Vacationing every other Christmas to West Palm Beach with the family and going to our favorite restaurant for our grand feast. Watching the manatees with you on the porch and talking about baseball and how spring training was going.
Being so excited for October to come so we could go to the American Quarter Horse Congress. Being able to brag to my friends how you were the President and in the Hall of Fame!
Missing the barn, horses and playing around with the kittens in the attic amongst the hay. I love horses because of you. I keep telling Patrick I want ONE. Maybe someday.
Loving how you turned your Suburbans into Cadillacs by switching out the Chevy decals for Cadillac. Remember telling everyone I knew you created the Escalade and telling them the story. It makes me laugh to this day. Then you pretending you were a race car driver showing us how fast your cady could go down the highway. We thought that was so cool.
Thank you for buying me a car that got me to Arizona, thank you for helping my savings account, thank you for just being there when I needed you.
I will remember so many great times with you but, I know you are in a safer place and with the woman of your dreams. She has been watching over me since I was born. You have been waiting for each other and it brings me peace to know you are back together!
I am so honored to be a part of you so thanks for bringing mom into the world who brought me into it too!
I love you and always will, your granddaughter.